Forthcoming
Ami organics Limited IPO
Initial Public Offer
Ami organics was incorporated in 2004, Company is one of the leading Research & Development driven company. Ami organics deal in different types of Advanced Pharmaceutical Intermediates and Active Pharmaceutical Ingredients (API) and materials for agrochemical and fine chemicals. Ami Organics has 3 manufacturing facilities situated in Gujarat with an aggregate installed capacity of 6060 Mtpa.
Issue details
The issue comprises of offer for sale of upto Rs 370 crore (60.59 lakhs share) and Fresh issue of 200 crores with the price band of Rs 603-610.
Issue Open: September 1, 2021
Issue Close: September 3, 2021
Face Value: Rs 10
Present Eq. Paid up Capital: Rs 5 Cr
Issue Size: Rs 570 Cr
Fresh Issue: Rs 200 Cr.
Offer for Sale: Rs 370 Cr
Price Band: Rs 603-610
Lot Size: 24 shares and in multiple thereafter
Expected Listing : 14th September 2021
Post-issue mkt. cap: * Rs 2,199 Cr – ** Rs 2,223 Cr
Promoters holding Pre-Issue: 47.22% Promoters holding Post-Issue: 41.1%
Book Building
QIBs 50% of issue Non-Institutional 15% of issue Retail 35% of issue
Post issue Shareholding pattern
Promoters 41.1%
Others 58.9%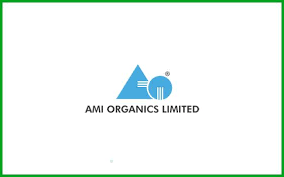 Positives:
(a) Ami Organics is having high market share in key APIs like Dolutegravir, Nintedanib, and Trazodone.
(b). Company has a diversified business, company has developed and commercialized 450 pharma intermediates for API across 17 Key therapeutic area.
(c). Companies has recently completed an acquisition of 2 additional manufacturing capacity from GOL.
(d). More than half of revenue comes from Export, Ami organics export to Italy, Finland, China and other countries.
Investment concerns:
(a) In some of the API company already having market share of 70-90%, it reduces scope of increasing market share in near future.
(b) Some of the companies key product like – Nintedanib, got covid related benefit in FY2021, which we don't expect to continue in future.
(c) Company has recently acquire 2 new manufacturing units, both the facility having low EBITDA margins and higher working capital requirement, this will create pressure on companies financials.
Outlook & Valuation:
Based on FY2021 numbers, the IPO is priced at a Price to Earnings of 35.6 times and EV/EBITDA of 25.7 times at the upper price band of the IPO, which is on the higher side, compared to the listed peer group. Company already has a higher market share of 70%-90% in Key API's which will limit growth in near future. Given the expensive valuation, we are assigning a NEUTRAL recommendation to the Ami Organics Limited IPO.
Company background
Ami Organics Limited was incorporated on January 3, 2004. The company is one of the leading research and development driven manufacturers of specialty chemicals with varied end usage, focused towards the development and manufacturing of advanced pharmaceutical intermediates for regulated and generic active pharmaceutical ingredients (APIs) and New Chemical Entities and key starting material for agrochemical and fine chemicals, especially from their recent acquisition of the business of Gujarat Organics Ltd.
Company supply their products to more than 150 customers, which including international customers and company supply to more than 25 countries. Currently Ami Organics has 8 process patent applications and 3 additional pending process patent applications for which applications were made recently, in March 2021.
Company have developed and commercialised over 450 Pharma Intermediates for APIs across 17 key therapeutic areas since inception. Ami Organics has 3 manufacturing units located at Sachin, Ankleshwar and Jhagadia in Gujarat with overall installed capacity of 6,060 MTPA. Further, the Jhagadia Facility has 15,830 square metre free land available for future expansion
Objectives of the Offer  
Repayment of current borrowing. (140 Cr)
Funding incremental working capital requirements of the Company. (90 Cr)
To meet general corporate purposes.
Ami Organics 88% of revenue comes from Pharma intermediates out of which 53% comes from export and 5% of revenue comes from Speciality chemicals out of which 86% comes from export market.